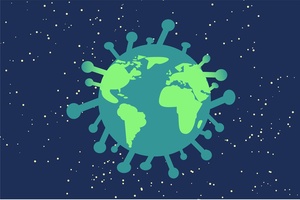 Here you will find information related to the Covid 19 pandemic to support businesses.
Information from BMZ on the Corona Pandemic
All information about the activities of the Federal Ministry for Economic Cooperation and Development (BMZ) on Corona can be found on the BMZ's issues page.
Using the lab of tomorrow against COVID-19
In response to the corona crisis, the lab of tomorrow (lot) project offers a shortened, digital innovation process for the development of sustainable business solutions. To this end, lot is now looking for corona-specific challenges and committed entrepreneurial actors who are motivated to develop suitable solutions in interdisciplinary teams within a lot process and bring them to market. In previous processes, for example, solutions for the reduction of plastic waste in Thailand and energy supply in Uganda have been implemented. You have ideas with which you can quickly meet current challenges of the Corona crisis and want to participate in a lot innovation process? Please feel free to contact lab-of-tomorrow@giz.de directly or visit their homepage.
Funding offers for coping with the consequences of the Corona pandemic for companies
In this acute crisis, the reliable and resilient partnerships between German and European companies and their suppliers worldwide offer the opportunity to break new ground together and for the benefit of all. The aim of the cooperation under the DC Scout programme is to promote the expansion of investment and employment in developing and emerging countries. In addition to direct financial support, increased attention is already being paid to the topics of digitization, supply chain resilience and health protection. The Federal Ministry for Economic Cooperation and Development is currently working at full speed to provide funds of up to 1 billion euros to improve the management of the corona pandemic. Further information on funding offers for coping with the consequences of the corona pandemic for companies can be found on the website of the Agency for Economic Cooperation and Development (german).
DEG special page on Corona
On this page you will find regularly updated information on DEG activities in the context of Corona, including an overview of the development programmes for enterprises.
GTAI special page on Corona
Germany Trade & Invest (GTAI) offer information on the current economic, legal and customs development in all regions of the world. Dedicated contact persons are available for information on individual countries. On the website you will find an interactive world map and a coronavirus live ticker as well as further information on the effects of foreign businesses.
Delaying the Green Deal initiatives
The European Commission has revised its work programme for 2020 in response to the coronavirus crisis. Individual Green Deal initiatives will be delayed or postponed until 2021 as they are considered "less essential". Under this link you will find the current list, with details of the original timetable, legal status and with relevant comments from the Secretariat General of the Commission.