Introducing Hyperlokal — A Decentralised Waste Collection Service for Indian Cities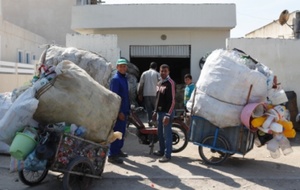 Hyperlokal was designed to help integrate small neighbourhood informal scrap shops and their waste-pickers into the formal waste management system at scale — by working with them collaboratively in the last mile collection of household municipal waste.
Hyperlokal began testing its collection service in 2018, working with scrap-shops and their waste pickers to collect waste from 1500 households in Mylapore, Chennai. The results have been very exciting, and we believe that Hyperlokal can help the municipality save as much as 20% of what it currently pays to recover waste from households in the city.
Kabadiwalla Connect strongly believes that the informal waste ecosystem provides essential waste collection and aggregation services in many cities in the developing world and we hope to be able to work collaboratively with waste collection companies and municipalities to enable their integration at scale.
More information you can find here.
In 2017 RETech held an conference on the theme Efficient Concepts for Solid Waste Management and Recycling with Integration of the Informal Sector.