Approaches for the recycling of biogenic waste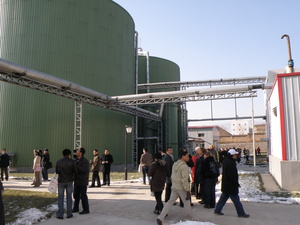 4th International RETech Conference:
Experts from Africa, Asia, Latin America and Europe will report on approaches for the recycling of biogenic waste
04. and 5. November 2021
Scandic Hotel Potsdamer Platz
Gabriele-Tergit-Promenade 19, 10963 Berlin
and Online via YouTube-Livestream
"Alongside resource conservation, climate change and its consequences are one of the greatest global challenges of our time. Sustainable climate protection measures are needed to limit global warming. In this context, the waste and recycling management sector plays a significant role that is often underestimated. Landfills, with their high proportion of deposited organic matter, are still the world's third-largest emitters of climate-damaging methane. The environmentally compatible recycling of biogenic waste into compost, biogas, electricity and heat is an important contribution to resource and climate protection.", so Dr. Armin Vogel, Chairman of the board German RETech Partnership e.V., Head of Business Unit Waste and Packaging of SSI SCHÄFER Fritz Schäfer GmbH.
German RETech Partnership e.V. in cooperation with the DBFZ (German Biomass Research Center), the University of Rostock and the Business Scouts for Development Program of GIZ is dedicated to the topic "Climate and resource protection through environmentally compatible collection and recycling of biogenic waste" within the framework of the 4th international RETech Conference under the patronage of the Federal Minister for the Environment, Svenja Schulze. The conference will take place on November 4th and 5th, 2021 in Berlin at the Scandic Hotel Potsdamer Platz.
High-ranking experts from Ethiopia, Brazil, China, Greece, India, Colombia, Russia, Thailand and Tanzania will report on the existing framework conditions, challenges and best practice approaches in dealing with biogenic waste and the associated local positive contribution to climate and resource protection. Scientists, entrepreneurs, representatives of German ministries and associations as well as NGOs will have their say.
Expert contributions, discussions and the marketplace of the regions are intended to contribute to a holistic understanding of this global challenge and help develop sustainable solution strategies, set impulses and promote networking beyond Germany's borders. Within the framework of the conference, at a joint dinner and the jubilee reception "10 years of RETech", there will be many opportunities to exchange ideas and make new contacts.
The conference is funded by the "Export Initiative Environmental Technologies" of the German Federal Ministry for the Environment, Nature Conservation and Nuclear Safety. The conference will be held under 2G conditions and will be broadcasted online via YouTube-Livestream. Participation is free of charge.
"We are pleased to host an international RETech conference in Berlin for the 4th time. This year's conference is again dedicated to one of the most pressing issues in the field of circular economy. In addition to resource conservation, climate change and its consequences are one of the greatest global challenges of our time.", Karin Opphard, Geschäftsführerin German RETech Partnership e.V.
Further background information, the program and the link to the registration page can be found on the project homepage.