Establishment of a waste management in Saudi Arabia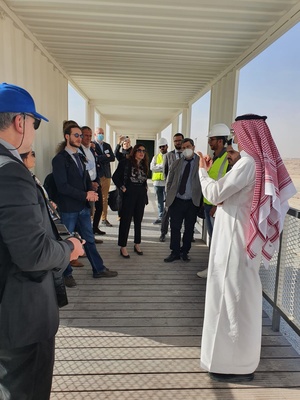 The cultural and economic relations between The Kingdom of Saudi Arabia and Germany have been successful for decades.
The Kingdom has started the journey to modernize their waste management system. This includes many key elementsofsustainabilitysuchasasignificantreductionoflandfilling, the increase of recycling capacities, the planning of an Extended Producer Responsibility (EPR) system and the safe treatment of industrial hazardous waste, just to name a few concrete measures. All these activities aiming to improve the technical and legal standards so that the current waste management system can be transferred into a circular economy as it is also outlined in the Vision 2030 of the Kingdom. With those steps The Kingdom of Saudi Arabia is leading the development of circular economy solutions in the entire GCC and Middle East region.
The German circular economy is interested to support this development. Germany can refer to 30 years of experience in the field of modern waste management, which includes technical as well as conceptual solutions that are proven to contribute to the goal of zero landfill for untreated waste and the significant reduction of climate harming gases like methane. This vast experience in Germany can be valuable for the above mentioned goals of The Kingdom of Saudi Arabia. At the same time Germany can learn from the Kingdom how to efficiently implement solutions e.g. for services for mega cities or large green field projects.
For German RETech Partnership and its MENA working group the Kingdom of Saudi Arabia is the focus country in the next years.