The Way Forward to Circularity - International Conference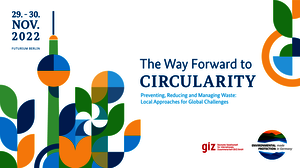 How can green technology and infrastructure solutions "Made in Germany" contribute to global environmental protection?
Representatives from business, politics and science will discuss this at the international conference "The Way Forward to Circularity" at the Futurium Berlin on November 29 and 30, 2022!
The international conference will be hosted by GIZ's Global Project to support the "Export Initiative Environmental Protection" worldwide on behalf of the German Federal Ministry for the Environment, Nature Conservation, Nuclear Safety and Consumer Protection (BMUV).
What to expect
The two-day conference is intended to foster international cooperation and partnership between the partner countries of the Export Initiative and German technology and service providers. The conference creates a platform for global knowledge sharing and market exploration for green and sustainable development by bringing together international partners from private and public sector, experts, and political decision-makers. It provides ground for discussions on innovative concepts and technologies and how to customize them to specific local conditions. From keynote speeches, panel discussions, world-cafés and get-togethers, there will be numerous occasions to meet and connect for future projects.
The conference highlights and promotes the cross-fertilization of sustainable infrastructure and innovative technology solutions. Together, they lay the foundation for better environmental and living conditions worldwide.
Program and Registration
You are interested in a global exchange on environmental protection and resource-efficient technologies as well as in building up long-term networks and demand-driven partnerships?
Then find the full program and registration details here. (The agenda will be uploaded soon.)
Join this event to learn from others, share your expertise and discover new business and cooperation opportunities!