RETech intensifies contacts to Ghana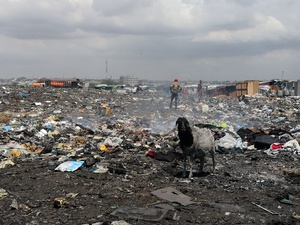 "We can expand our local networks in Africa through the partnership with an association in Ghana, that supports RETech and member companies with the establishment of training courses, primarily for young enterprises in the waste management sector. This offers new opportunities in Africa for the members of RETech." Claudia Bunkenborg, vice-chairman of German RETech Partnership and CEO of Nehlsen AG and of Rodiek & Co. GmbH.
German RETech Partnership (RETech) has concluded a bilateral cooperation with Plastics Recyclers and Aggregators Association (PRAAG). The purposes are driving forward capacity building in Ghana as well as different waste issues and to provide consultation for the newly founded association in the further organizational development. The project is implemented with the term of 1 year, founded by the Federal Ministry for Economic Cooperation and Development (BMZ) and sequa gGmbH, an international organization.
The training material and the training of start-ups, young enterprises and SME´s, which are now being implemented, are developed by RETech-member companies Nehlsen AG/Rodiek & Co. GmbH, Black Forest Solution GmbH, Universität Rostock/envero GmbH and eclareon GmbH.
"We are looking forward to the support in our ambitious goals to establish a waste management system through integrated collection and recovery systems thanks to the cooperation with the association RETech", declared Ms Cordie Aziz-Nash, outgoing president of Plastics Recyclers and Aggregators Association (PRAAG).
Even though in the last few decades in Ghana poverty has been reduced, and Ghana has won a place on the list of the medium income countries, a quarter of the population still lives under the poverty line. Large sections of the population are working at a subsistence level in the informal sector - this is also the case in the waste management sector. In most cases the waste is collected through workers from the informal sector, sorted and disposed on disorganized landfills. The current practice imposes a risk on public health and for the environment, and the methane emissions will enhance the climate change.
The country is at the beginning of a process, in which the society and political actors increasingly develop a consciousness for the importance and added value of a modern waste management concept. This recently emerging sociopolitical process can be accompanied by the German waste management sector with a range of solution along the entire value chain with the Ghanaian partners, supporting a new, intelligent infrastructure.
You will find further information on the project at the project website.